David Siow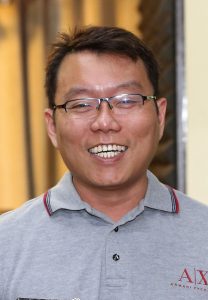 My name is David Daniel Siow Peng Guan. I was born in 1975. I would like to share with you my personal journey from being involved in all the different kinds of illegal activities to eventually acknowledging my sins and accepting Jesus Christ as my Lord and Saviour.
I would like to begin with my various convictions and end by sharing with you how I was saved by Jesus.
My history of prior convictions were as follows:
1988 – Criminal Trespassing – Stern Warning
1991 – Registered Fighter in the SSB – Stern Warning
1992 – Drug Consumption – DRC Pending [1 week] – Under Urine Supervision @ AMK Police Station
1992 – Vehicle Theft – Probation
1993 – Vehicle Theft & Drug Consumption – Sentenced 25 Months (RTC)
1996 – Drug Consumption – Sentenced 12 months (DRC)
1997 – Breach Of Probation – Sentenced 6 months (RTC Recall)
1997 – Drug Trafficking & Drug Consumption – Sentenced 21 Years and 15 strokes of the cane
Being young and naïve, I always sought companionship which I thought would give me a sense of power and strength. I was 13 years old when I had my first brush with drugs and sleeping pills. Thereafter, I progressed to cannabis and heroin. However, I did not feel that that was enough for me. I joined the secret society 08 group Hai Lok San, which was the largest secret society in Singapore, dealing in illegal money lending and prostitution.
I felt powerful as I was a fighter in our group. I was trained in some form of self-defence in the early 90s in Geylang. Things got worse when I became deeply involved with my gang and handled the surveillance of rival gangs. Nonetheless, my own issue was with drugs. I went to DRC at the age of 16 and subsequently got more drug connections.
I dealt with huge amounts of drugs and by God's grace, I was caught at the age of 21. I escaped the gallows by 0.45 grams of diamorphine. I did not have any remorse even after my sentencing. I went on to handle more hardcore gang members in prison. One day, unable to control my stress, I initiated a gang fight in prison. I was locked up in a confinement cell for 7 months under the Zero Tolerance Programme (ZTP). I had nothing in the cell except a bible. It was only after two and a half months under confinement that I read the bible. I became especially touched by the gospel songs sung by fellow inmates and prison volunteers every Sunday in the adjacent block. I accepted Christ as my own personal saviour in August 2003 after I was released from the ZTP.
Things changed for the better after that. I was accepted by the KBC Prison school which allowed me to finish my general education: Secondary levels 1 to 3, followed by GCE N, O, and A level in 2011. After my release from prison school, I was selected by Citech (a private school) to complete my Diploma in Accounting & Finance and proceeded to obtain my degree from the University of Gloucestershire (UOG) in the same discipline. I went on to pursue a master's degree in Social Work from Singapore University of Social Sciences (SUSS) in 2018 through part-time study, but withdrew after two years due to work and volunteering commitments.
In 2011, I met Philip Lim, who became my mentor as well as my good brother in Christ. On top of that, he is like a fatherly figure to me, and he guides me throughout my education journey up till now. Philip was in the panel of interviewers in the Yellow Ribbon Fund STAR Bursary (Skills Training Assistance to Re-start) Programme when I was interviewed.  He became my mentor and encouraged me to continue my studies.  I found out that he is also a prison volunteer with Christian Counselling Service (CCS).  He told me that CCS has many volunteers like himself who spend their time visiting inmates and sharing with them the Gospel.  Many inmates were moved and encouraged by the sincerity and love given to them from the volunteers, enabling them to feel God's unconditional love for them.
Even though I have an Accounting & Finance degree, I was not able to get a finance industry job. I was turned down by more than 10 companies. Life is tough but nonetheless, in good times or bad times, I still praise God for guiding me all this while.
I am currently a volunteer at the Taman Jurong GRC, as well as a full-time staff in Tasek Jurong Limited guiding youths-at-risk and ex-offenders. I am also with the Beacon of Life (BOL) which is made up of ex-offenders who have committed themselves to changing their lives and have a desire to help other ex-offenders to get on the right path. This group was founded by several ex-inmates.
Editor's Note: David is presently an in-care volunteer counsellor of CCS and serving as Honorary Treasurer of CCS Executive Committee.